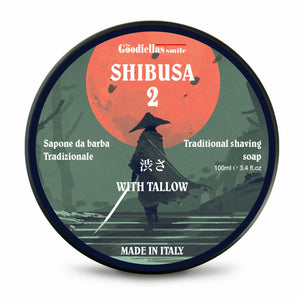 The Goodfellas Smile Shibusa 2 Shaving Soap
The Goodfellas Smile Shibusa 2 Shaving Soap is a new tallow formula and fragrance (December 2019). A beautiful sweet shaving soap, inspired by Acqua di Parma
Scent Profile: Heart notes of Anise, Peach and Ylang Ylang rest on a base of Vanilla and White Musk.
Size: 100ml in a plastic tub
Ingredients: Aqua (Water), Stearic Acid, Coconut Oil, Tallow, Potassium Hydroxide, Parfum (Fragrance), Sodium Hydroxide.
The Goodfellas Smile
The Goodfellas Smile shaving range is designed for shavers who love high quality products for their wet shave, with the carefully selected of raw ingredients. The shaving soaps from The Goodfellas Smile are 100% artisan handmade in Italy and are a traditional soft style shaving soap.
These shaving soaps are suited to using with a wet shaving brush, simply swirl your brush to remove the soap into a shaving bowl and enjoy the voluminous lather!