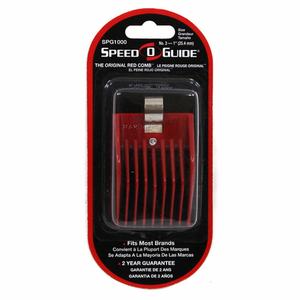 Speed-O-Guide Universal Clipper Comb Attachment No 3
1"

Speed-O-Guide is the "Original Red Comb" for use with virtually any electric clipper brand. Available in different sizes, Speed-O-Guide's superior-quality plastic combs are both flexible and strong. Speed O Guide combs fit virtually any electric clipper brand. These universal red clipper combs deliver the cleanest and most precise cuts, allowing you to create the latest looks in flat tops, crew cuts, buzz cuts, tapering, texturizing and more.

The nickel plated heat-treated clip is especially designed to withstand many changes. Teeth are thin for maximum control, and they are evenly spaced for the best measuring capability when cutting and texturizing hair. Constructed of the highest quality ABS plastic to provide both strength and flexibility.

2-year guarantee against any manufacturer's defects.