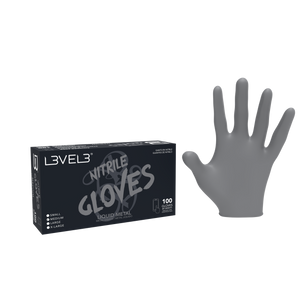 L3VEL3 PROFESSIONAL NITRILE GLOVES – 100 PACK
Protection and hygiene? They're in your hands with our professional nitrile gloves.

L3VEL3 nitrile gloves are an everyday essential for a wide variety of tasks – and they're not just for barbers. They keep you safe at work and at home, offering superior protection against sharp objects, chemicals, and germs. Made of synthetic rubber, the gloves are suitable for people with latex allergies. They're also powder-free to prevent skin irritation, and PVC-free for safe food handling. The ambidextrous design is great when you're rushing, while the gloves mold to your hands for protection plus comfort. Flexible for dexterity and touchscreen compatible, these gloves help you get jobs done efficiently and safely.  

Key Features
Our bestselling nitrile gloves for outstanding protection
Made of synthetic rubber with no latex, powder, or PVC
Superior resistance to punctures, chemicals, and germs
Optimal flexibility and dexterity, and touchscreen compatible
Ambidextrous, form-fitting gloves for a snug yet comfortable fit

Why It's a Game-Changer
Everyone's talking about our colored nitrile gloves. They're highly resistant to punctures, chemicals, and germs, helping you work safely and hygienically whatever your job. Latex-free with no powder or PVC, these gloves are great for people with allergies. They fit snugly but comfortably, so you're fully protected but can work without restrictions. Use our nitrile gloves for all your hair, beauty, tattooing, healthcare, cleaning, and food prep needs – and you'll see why they've gone viral.

These are the ultimate puncture-proof nitrile gloves, designed to stay intact and not be pierced or torn by sharp objects. They'll prevent cuts and injuries when you're working with scissors, razors, and knives. If a puncture does occur, you'll spot it immediately thanks to the vibrantly colored material. The gloves are also chemical resistant, so they'll prevent skin irritation when you're applying hair dyes and bleach. There are different glove thicknesses available, so you can choose the ones that best suit your needs.

Allergies are of no concern with our PVC-free, latex-free, powder-free nitrile gloves. The synthetic rubber is safe for everyone and virtually all applications, including food handling. The flexible material enables full dexterity and mobility, so you won't be restricted, even when doing detailed tasks. Snap these gloves on and they'll mold to your hands, forming a barrier between your skin and potential hazards. And no need to waste time hunting for a matching pair, as these gloves are ambidextrous.

Protection should level-up, not hinder, the way you work, so these are touch screen nitrile gloves that let you use devices as normal. That's handy when a client wants to show you a hairstyle on his phone. When you've finished your tasks – whether that's cutting and coloring hair, prepping food, or cleaning your house – you can toss out these disposable gloves and any germs too. Delivering superior protection, functionality, and value, our nitrile gloves can't be beat.

Black/lime/red/orange: 3.5mil thickness. Silver/Pink/Lavender: 4mil thickness.
Pack contains: 100 gloves.

How to Use
Order the glove size and thickness you need
Pull on your gloves and they'll mold to your hands
Get to work, knowing you're fully protected
Safely dispose of your gloves when you're done
large.
Glove Sizing Chart
Measure your palm width horizontally as shown in the below picture to find out which glove size will fit you better.
Why barber and hairstylist use nitrile gloves?
Nitrile gloves are made from synthetic rubber and often referred to as "medical grade." Nitrile gloves mold to your hand for a superior fit and they are comfortable for wearing for extended periods of time. They will protect you and your client from puncture resistance better than any other type of glove. Available in different colors, like blue, red, or pink you can easily see if they happen to get a puncture in them. Nitrile is perfect for use with color and perms as they are resistant to most chemicals. The shelf life of Nitrile gloves is long, and there is no worry about allergies.