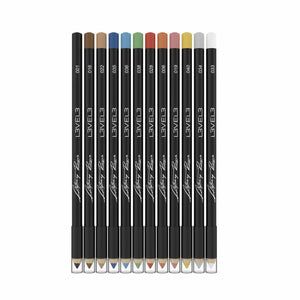 L3VEL3™ Color Liner Pencils - 12 Pack | Hair Engraving Color Pencils | Color Pen For Hair Tattoo
Give your designs a more artistic and personal feel with the Level 3 Color Liner Pencils - 12 Pc. The lightweight material provides maximum comfort and stability over long periods of time. Color pencils are an excellent choice for creating trending hair tattoos, hair portraits, and creative hair designs.
The liner pencils deliver precise and sharp color lines. Each pen includes a tip cover case for protection and durability.
Lightweight design, maximum comfort
12 pack- assorted color pens
Made of high-quality, durable materials
Each pen comes with a tip cover case
Perfect for hair engraving and hair portraits
Dimensions: Each pen liner is 7.25 inches long.
Includes 12 liner pencils.
Included colors:
1 x Black color liner pens
1 x dark brown liner pen
1 x light brown liner pen
1 x blue liner pen
1 x sky blue liner pen
1 x green liner pen
1 x red liner pen
1 x orange liner pen
1 x pink liner pen
1 x yellow liner pen
1 x gray liner pen
1 x white liner pen