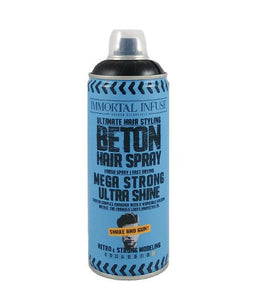 Beton mega strong hair spray for serious styling sessions. Gives your hair long lasting hold that goes on for hours and hours. Fast drying spray provides the best finish. Non-sticky and fast drying. 
You can't hold a fabulous style without a hairspray like Beton Mega Hold Hairspray. Its super fast drying, non-sticky formula is an essential final step in securing an up-do and opens the doors to creative styling.

Enhanced with a protective formula,  It's super strong control power allows your hair to be moulded after spraying and brushes out easily too. It creates permanent shapes that last all day without weighing down your hair.

Beton Mega Hairspray has a control Level of 9 for maximum style moulding and definition. Great for hair ups.  
Beton Mega Hairspray has a shine Level of 9 for mega shine.