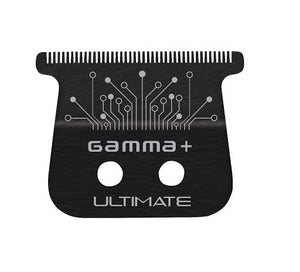 STAY SHARP with the ULTIMATE REPLACEMENT TRIMMER BLADE
Who thinks about replacement trimmer blades until you need them?  Don't get caught without a blade when you really need one.  This Ultimate .2mm fixed replacement trimmer blade fits all Gamma+ and StyleCraft trimmers.  No need to try any other blade.  Easy to replace and use, see our instructions below.
With so many different types of hair, long, short, straight, curly or wavy, these blades will help guide through the most stylish cuts and fades. 
Choosing the right trimmer is important, but choosing the right trimmer blade can make or break your total look.  Not all T-blades are created equal and many don't offer much in the way of utility, while other have limited appeal and installation is hard and doesn't work.  Our Ultimate Fixed Trimmer Blade is easy to install and works like a charm when securely fastened to the Gamma or StyleCraft brand of trimmers.
∞ Size:  .2mm for the closest cut and super tight trim
∞ Color:  Black to coordinate with any trimmer body color
∞ Material:  Durable and professional grade black diamond-like carbon
∞ Use:  Compatible with all Gamma+ and Stylecraft branded trimmers
Keep yourself organized and ready while servicing your clients with the GAMMA+ Barber Ultimate Fixed Trimmer T-Blade .2mm Tip Blade!
Super sharp blades are vital to a barber and stylist's reputation and quality of work!  Without the right attachments to your tools, you may leave yourself or your client looking messy and unkept.  Get the best professional look with this .2mm blade sized for the perfect trim.  
Aside from the sexy and sleek black design, this blade is essential to your tool box and can be used every day.  Why not have the convenience of installing the right blade in your trimmer rather than struggling with one that doesn't work?
Some key points about our Ultimate Fixed Trimmer Blade:
BLACK DIAMOND TRIMMER BLADE fits most popular branded trimmers
HIGHEST QUALITY blade is rust and corrosion impermeable.
IDEAL FOR HIGH PRECISION and fine line cutting and trimmer designs
SHARPER THAN AVERAGE BLADES, this double honed trimmer blade has strong edges to keep their tips super sharp and durable
FEWER BLADE CHANGES after daily use are more convenient, time saving and preferred by pros
RAZOR SHARP PERFORMANCE stays sharper, longer with coolest operation and no drag
T-BLADE DESIGNED AND EGINEERED in Italy, Ships from USA
REPLACEMENT BLADE for Gamma+ and StyleCraft Trimmer models
INCLUDES: 1 fixed blade with .2mm tip
Utility doesn't mean you need to sacrifice quality. Add the GAMMA+ Replacement Ultimate .2mm Black Diamond T-Blade to your cart TODAY!
TO REPLACE BLADE: Turn trimmer to OFF position. Remove the 2 screws from the fixed blade on your trimmer. Replace with new blade into housing and align the new blade over the two holes with the Gamma+ logo facing you. Gently tighten both screws back onto the blade and replace your lid cover. Turn on your trimmer to make sure blade is not loose before trimming hair.