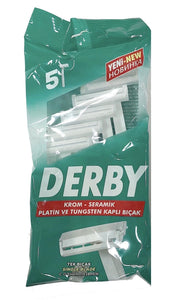 The Derby single edge disposable single edge razor is an easy to use razor that comes in a 5 count polybag. 
Provides a comfortable shave with blades manufactured from high quality steel coated with special chrome, ceramic, platinum, and tungsten. Easily cuts long beard hair with its single blade head, which is easy to rinse.
Polystyrene razor head and handle.
5 Razors in sealed poly bag.

Made in Turkey