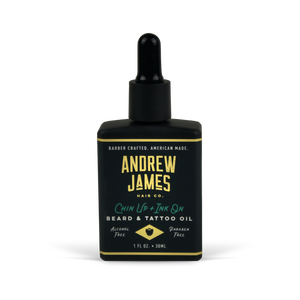 ANDREW JAMES: BEST BEARD AND TATTOO OIL
Andrew James's beard and tattoo oil is made using a proprietary blend of five essential oils, namely Argan, Copaiba Balsam, Olive, Passion Fruit, and Sunflower oils, with proven skin and hair benefits and is freshly scented using papaya coconut.
Redefine your beard and tattoo with Andrew James's beard + tattoo oil, whose ingredients are combined in perfect proportions to offer the ultimate shine and other unique benefits listed below.
Give your beard and tattooed skin the Phyto-nutrientsneeded to add and preserve moisture. Additionally, soothe your skin without that greasy feeling as our oil isn't messy to touch. Enjoy frizz-free application on your beard and watch your tattoos come alive instantly on application.
QUICK BENEFITS OF ANDREW JAMES BEARD +TATTOO OIL
Why should you choose our beard + tattoo oil?
Formulated for facial hair: This beard + tattoo oil has been designed for taming loose ends, softening, and nourishing facial hair.
Hydrates the skin: Our oil works by hydrating the skin. Zero oiliness!
Works for all types of hair. Keep tattoos fresh:Use Andrew James Beard and Tattoo oil for all types of hair and skin. Works for all hair lengths too and skin types.
ZERO dryness and itchiness: Moisturize, soothe and invigorate the beard and skin. Eliminate dryness that compromises the appearance of your tattoos and beard. The essential oils and other ingredients deliver exactly what your hair and skin wants to avoid common problems like dryness and itchiness.
Superior control and shine: The unique blend of essential oils and other ingredients delivers unmatched control and shine.
Protect the skin: The ingredients are made up of antioxidants and 100% natural moisturizers, which protect the skin from common problems like infections and damage.
100% safe: Our oil is free of alcohol, paraben, and other additives known to cause skin irritations. We've tested the oil extensively for safety.
As long as there isn't any direct contact with open skin and other necessary precautions are taken (i.e., safe storage away from children), the oil is 100% safe. What's more, the ingredients are natural.
Add a few drops on your palms, spread the oil by rubbing your hands gently, and apply. When applying to your beard, work the oil down to your skin. When applying on tattoos, apply a few drops on your tattoo working on/around the tattoo area.
A second application may be important for dry skin or long beards that need to be worked on more for the oil to reach the skin.
Andrew James Beard and Tattoo Oil is made for men searching for unique beard and/or tattoo oils that not only keep the beard and tattoos looking great but also smell good, safe, and easy to use.
Important: The Andrew James Beard and Tattoo oil can be used on the beard, tattooed skin, and other areas like elbows and knees that are prone to dry skin patches or skin areas where more moisture is needed.
Warning: Store away from children's reach. Avoid application/contact with broken skin or eyes. In case of irritation, discontinue use.